Brady Bunch Theme Song Parody
is sung at the beginning of
Gay Fire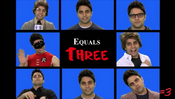 Here's the story about Ray William Johnson,
who didn't know how to make friends on his own.
So he started reviewing videos on the internet
but he's still alone.
Catt Lauer: Go f**k yourselves! All of you!
Ad blocker interference detected!
Wikia is a free-to-use site that makes money from advertising. We have a modified experience for viewers using ad blockers

Wikia is not accessible if you've made further modifications. Remove the custom ad blocker rule(s) and the page will load as expected.