The Equals Three Show (formerly known as Equals Three) (stylized as "=3") is a YouTube web series which was famously hosted by Ray William Johnson until mid March 2014. The show returned on July 16th, 2014 and was hosted by Robby Motz. After Ray left, the show's popularity began to decline and it really declined when Kaja Martin took over as host on July 28, 2015.
Also around this time, Ray began Equals Three Studios, which forced the show's name to be changed from "Equals Three" to "The Equals Three Show". On December 4th, 2015, she was replaced by Carlos Santos. Carlos decided that rather than reviewing three videos in two episodes a week, he would review six videos in one long episode that would air on Fridays.
The show currently premieres on Fridays on the Ray William Johnson channel, but it used to be on Tuesdays and Fridays when only three videos were reviewed.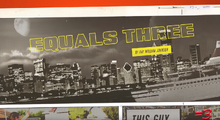 Each episode is usually 5 minutes long, and consists of the following:
A greeting
Viral Videos (x3 separated by transitions)

Contextualization of video
Playback
Initial Reaction
Mockery
Repeated playback and/or dubbing

Comment Question of the Day (now discontinued)
Credits
Miscellaneous announcements and updates (occasionally)
Outtakes/Replay (occasionally) 
Episodes
Edit
These episodes were all hosted by Ray William Johnson in his college dorm room..
Season 1 (2009)
Edit
No Sex?
A racist cartoon?
Your perverted dad?
Wanna get high?
Horny Brits?
OMG! Woodchuck!
RWJ is dead!
YouTube is changing!
1,000,000 Subs
No Homo
Go Big-Man!
Kick his @ss!
Your girlfriend's got talent
I will end you!
Miley Cyrus naked
Best. Video. Evar!
Shoe Sex
Lonely Rednecks
Your Mom's Underwear
How NOT To Dance
Monkey Love
Stupid Nerd!
Myspace Date
WoW!
2 Girls 1 Truck
Gathering in My Pants
Mutant Poodles
ZOMG! Porn!
Rawr!
U Got Worms
Ass Deodorant
Fight! Fight! Fight!
Britney Spears Sux
Pedo-saurus
Horse Hit By Car
Don't Call Me Fat!
Guy Catches On Fire
Show Me Your Boobs
I'll Beat Your Ass
Kicked By A Horse
Attacked By A Lion
Funniest Crack-Head
Greatest Knockout Ever
56 Year Old Virgin
Dancing Baby
Hot Chick Gets Attacked
Scooter Jump Fail
I Want My Chicken
Kung Fu Kick
Spray Can Explodes
What's Your Numbah?
How big?
Hot Reporter Gets Humped
Epic Boyfriend Fail
Taylor Swift Gets Pwned
Drunk Ewoks
Horse Bites Girl's Head
Amazing Motorcycle Flip
Sex with anyone?
Your Game Sucks
Bad-Ass Bubbles
Drag Queen Fight
Hot For Words
Asian Lady Gaga
Miley Cyrus Wants Pie
Bambi Hit By A Car
Emo Yoda
Ninja Squirrels
A New Jesus
Racist Chicken
Techno Kitteh
Hot Chicks Do Stuff
Season 2 (2010)
Edit
I PWN N00BS!!
Psycho Asian Girlfriend
Death Metal Baby!!
Sexy Swingers
CHICK FIGHT!!
U HAVE NO SOUL!!!
WTF?!
I'M HUGE!!
EWW GROSS!!
Happy Doggy! :D
BALLS!!
ANGRY TOAD!!!
HACKED!!
She's so anal.
Kick Ass Grandma
Man-Bitch
Old People Rock!!
Communist Roll'd
Evil Bunneh!!
OH MY GOSH!!
CRAZY BITCHES!!
U be Trippin'
HUNGOVER and RUSHED!!
ZOMG KITTEH!!
Nasty Presidents!!
What the Fudge?!?
OH LAWD!!
F***ING BIRDS!!
Kid Gaga
Psycho Dog Man
Flying Puppeh!!
ROBOT MOUTH!!
Devil Bird
Big Booty Bitches!!
I KEED. I KEED. =)
CONDOM FIGHT!!!
I LOVE YOU
Smackin' BEWBS!!
YOUR FACE!!
Balls Bunny
NINJA BEAR!!
American Idol Freakout!!
You be Nasty!!
Booty Dance!!
MY BABY DADDY!!
NO PANTS!!
GIMME A THIMBS DOWN! :D
Nekkid Mom!!
Poor Fat Kid =(
Worst. Episode. Evar.
Drugs and Rainbows
STRUT THAT ASS!
ROCK THE PARTY!!
Gay! Gay! Gay!
BATMAN!!!
Crazy Animals
Want a hug?
ACTION!!!!!!
In Soviet Russia...
I LIKE TURTLES!!
AWESOME SAUCE!
PERVERT!
Drunkest Man Evar!
BAD KIDS!
YOU RACIST!
FAKE DEATH!!
Ray It Ain't So
Lookin' 4 Love
Vag Bubbles?
FEAR THE CHEESE
Sunny D and Rum
DEMON PIZZA!
GREATEST MAN ON THE INTERNET
GO SUPREME!!!1!
F*** GUMBY!!
Karate Expert!
3 Second Video
Time Traveler
SUPER FART!
POKEMON?
Disney World!!
YELLOW SOCKS!
CARROT STICKS!
Japanese Face
FAYUL!
CAT FIGT!!
TURKEY PORN
GOOFY RUN
No Christmas
Baby Preacher
YAY!!
HA HA HA!
MAGIC BEER
I'M BACK!!
Season 3 (2011)
Edit
HELL NO!
Hump Like Bunnies
BALLS TO YOU!!
BIRD SECKS!!!
BEAR FIGHT!!
SPONGE BOBBLE!
INDIAN ACTION
I DID HIM
WINDOW LICKER
THUG JEDI
PASS IT AROUND?
HARRY BAALS
Urkel Dance
DIRTY M0NKEY
GET A JOB
DANCE DANCE DANCE
UNDERWEAR?
BITE A BEWB
DEAD KITTY
CREEPY INDIAN
WANNA FIGHT?
WAY HO
DANCING DROID
SLOPPY HO
Strippers and Stuff
DEATH WISH
DOLPHIN LOVE
The Dark Side
Bugs Bunny'd
Alien Found?
Talk to Me, Goose!
Elephants Touch Me
DEATH METAL
TALKING DOG
THE JESUS DANCE
GAY BUG
AIRPORT PR0N
Kick the Baby!
BOOTY SHAKIN'
BIKINI CHICKS
KICKED BY A HORSE
CRAZY WIZARD
I'M DREAMING
SHOWER PRANK
SCHINDLER'S GEESE
OPTIMUS CRANE
TOO FAT TO DIE!
ALL CAPS RAGE!!!
ALL OVER YOUR FACE!
CHAINSAW ACCIDENT
DRUNK PHILOSOPHY!
GIRLS ARE CRAZY
WILL YOU MARRY ME?
LEAVE JUSTIN BIEBER ALONE!
SOCCER FAN
NEKKID TACKLE
METH RAGE
SLAP YO'SELF
FREE CANDY
CURSING BIRD
DRIFTING
REDNECK DAD
NOT A WEDDING
FAT KID FALLS
CONFESSING MY LOVE
IT'S NOT GAY
SPACE P0RN
BLANKET PARTY
THUG GUMBY
GABE WILLIAM JOHNSON
1 Fan
I HEART INDIANS
SWAMP A$$
EVIL CLOWN
NiNJA NUNS
BROKEN GOAT
Nekkid for Jesus
DEEP BANANA
LIKE MY STATUS
BARFING CATS
DRINK DRANK DRUNK
=3 HALLOWEEN
CHICKEN LADY
SHORT HAIRY GUYS
CANDY BANDIT
COBRA CAT
GOOSING!
SURPRISE?
ENGLISH ACCENTS
FIRST KISS
MASHED POTATOES
MULLET LIPS
THE TROLL RETURNS
FAT RAY
BIG HOOTERS
Season 4 (ET 2.0) (2012)
Edit
Equals Three 2.0
Edit
Around mid-way through the season, Ray and Maker Studios get into a dispute, resulting in Ray temporarily hosting Equals Three from his apartment. A few weeks later, the show receives it's first major update with a new studio and look dubbed by fans, "Equals Three 2.0"
Equals Three 2.0 is the name given to the improved and revamped Equals Three show, which is now produced by Ray's studio Runaway Planet and in conjuction with Julian Smith's studio Papertown. There are numerous noticeable changes to the show.
There is no longer "Cool Transitions". Now, the camera pans away from Ray, revealing a comic book strip, and zooms in onto another frame to transition. However, the record spin sound is still played as it transitions. These comic book strips also surround the videos that are being reviewed. Also, there is a new title card for the show.
Including higher quality visuals, the background is blurred while Ray is clear. The camera appears to be lower than he is and at an angle upward, meaning that Ray has to stoop slightly. Although, a few months later that was fixed and the camera is now at his eye-level.
Finally, due to the team of staff that now help Ray produce the show, there are credits that roll at the end of each episode while a techno-like beat plays. Credits were featured when Ray worked with Maker Studios, though they eventually stopped being put in. According to Ray, its current format is the way that he always wanted his show to be.
In the episode So Long Ray, he announced that he was going to record the Your Favorite Martian album and that there would be guest hosts for the six weeks. Little did we know, that would be the last =3 episode with Ray partnered with Maker Studios.
In the episode WORLD'S GREATEST NINJA, Ray returns to =3, but is now filming in his apartment as he is no longer with Maker Studios.
The episode How to Approach Women is the last =3 episode under the original Equals Three.
In the episode Equals Three 2.0, Equals Three 2.0 begins.
Episodes
Edit
Goodbye Ray
Deadly Cat!!
Hole People
Zebra Hickey
EAT EVERYTHING
SPELLING BEE
I'M BACK
FIGHTING THE ELEPHANT
RHINO SAUSAGE
GANG SIGNS
CONSPIRACY THEORY
DUBSTEP CAT
I HAVE SUPER POWERS
I LOVE YOU GUYS!!
JUSTIN BIEBER'S BIRTHDAY!
YOU'RE AWESOME!
VERY IMPORTANT VIDEO!
DOLPHIN RAPE!
WORLD'S BIGGEST CONDOM
YOU INSPIRE ME!
FLYING LIKE A BIRD
ELMO SEX TAPE
Angry Woman vs Bike
Drunk Bohemian Rhapsody
You're So Metal
Problem Solving
REACT!
North Korea Perspective
Secret Service Prostitution
New Ninja Turtles Movie
THE WORLD IS ENDING!
CHEESEBURGER!
HAPPY CINCO de MAYO!
Meow Died :(
Punching Everywhere
Feel Good
DRUNK CHICK PROOF
Hooter Hula Hoops
Church Singer
Ray Smash!
Kids on Drugs
Flying Cat
Hello Norway!
Hello Mexico!
Ice Cream Truck Fight!!
For The Ladies
My Pet Monkey
How to Eat a Fly
Amazing Spiderman
Wiener Crabs
Sell Out
Hannah Montana Spray
Gay Robin
1 Minute Episode
Wonder Dog
World Record
Vag-Blaster 9000
Catt Lauer
Party Crasher
Rageboner
Gay Fire
Birthday Episode
I Got First
True Love :)
Double-Ended Di-L-Do
Everybody is Gay
Nut Shot Trilogy
(1) So Long Ray
T-PAINFUL
Korean Fart Doll
Flying Kitties
Fat Man's Kryptonite
Virginity Rocks
Uncle Wang
Best Death Ever
Big Water Bazonga Melons
Blazing Crow
One Direction
(2) WORLD'S GREATEST NINJA!!
Sh*t I Don't Like
2 BILLION VIEWS
Picking Up Women
Asian Hostage
Dog Has Super Powers
"OH SH!T"
(3) YOUTUBE FAMOUS!
Biebs and Selena
How to Approach Women
(4) Equals Three 2.0
Bigfoot Found!
The Ray William Johnson Show
Chimpanzee Riding a Segway
Terrorist Baby
DA FUQ
Loudest Bass in the World
Eagle Steals a Baby
Season 5 (2013)
Edit
BEST OF EQUALS THREE 2012
NO UNDERWEAR
RWJ vs SMOSH
ASSASSINATION ATTEMPT
RAY AND SILENT BOB
GOT AN STD?
HARLEM SHAKE VIDEOS
METEORITE CRASH IN RUSSIA
GALLON SMASH PRANK
WORLD'S FASTEST HOT DOG EATER
SHOCKING CONTENT!
PUNCHING KIDS
THE MEANING OF LIFE
SCARIEST RIDE EVER
I murdered my husband...
CHEATING EX
Do humans actually remember commercials?
The Illuminati
BLOWING UP
SHAKE DAT ASS
UGLIEST FACE IN THE WORLD
Help!
Harry Potter Abridged
Six Second Video
Miss Utah
EQUALS FIVE
Plane Crash
Bubble Soccer
I'm Single
Dance and Do Laundry
Amazing Swimming Baby
Horny Grandma
Terrified Man
Cow Sex Accident
Cat Ass
Pilot Names Prank
Star Wars Freakout
How to Hire an Assassin
Shia Labeouf Spotted
White Morgan Freeman
Kevin Rose Raccoon Attack
Ferrari Driver Arrested in NYC
Guy Sticks Knife in Toaster
Robots are Taking Over
Korean Girl Sexually Harassed
Awkward Couple Fight!
Traffic Blows
Security Guard Beatdown
Wal-Mart Mom Fight
Boat Trick Accident
Crazy Rhubarb Lady
Amazing Sex Facts
Rich Preachers
Will You Have Sex with Me?
Bear Thief
WHO SHIT!?
Cake Smash
Amazing Sign Language Lady
Giant Baby
Lion Attacks Trainer
Baby Yoga
Fast Food Rapper
Jesse Pinkman, Bitch!
SHEEP PARTY
Russian Hovercraft Lands on Beach
Massive Sinkhole
Failed Wedding Proposal
Inappropriate Wedding?
Thugs Watch Fireworks tho
Stoned Patrick Stewart
Scary Raptor Prank
Mean Preacher
How To Make An Electric Guitar
Poop Trap
FIRE TWERKS!
Dat Face Tho
I'm Batman
SWEET VICTORY
Hooking Up at a Party
I'm American
Trash Talk
Halloween Special
Feel Good
YouTube and Google +
My Big Head
Bomb on a Plane
Skydiving Accident
Massive Snowball Fight
PLEASE STOP!
Good Luck
GOAL
Season 6 (2014)
Edit
Things That Kill
Eat Beef
The Challenge
Piss Drunk
Real Life GTA
Flexin' On Ya
Hottest New Jam
Sexual Harassment
THANK YOU FOR EVERYTHING
The Resurrection (New Host)
Like a Girl
Armed and Dangerous
TO BE CONTINUED....
Season 7 (ET 3.0) (2015)
Edit
TO BE CONTINUED
Season 8 (2016)
Edit
The 2016 season was hosted by Carlos Santos and it premiered January 1st, 2016 with BEST OF YOUTUBE // week 4 - December 2015. For the first three months, it followed the new "Equals Six/Best of YouTube" format, which had a new episode being released each Friday. On March 15, 2016, Carlos decided to revert to the classic "Equals Three" format, which had three videos reviewed in one episode and an episode was released on Tuesday and Friday.
BEST OF YOUTUBE // week 4 - December 2015
BEST OF YOUTUBE // week 1 - January 2016
BEST OF YOUTUBE // week 2 - January 2016
BEST OF YOUTUBE // week 3 - January 2016
BEST OF YOUTUBE // week 4 - January 2016
BEST OF YOUTUBE // week 1 - February 2016
VALENTINE'S DAY Viral Video SPECIAL (2016)
BEST OF YOUTUBE // week 3 - February 2016
BEST OF YOUTUBE // week 4 - February 2016
BEST OF YOUTUBE // week 1 - March 2016
BEST OF YOUTUBE // week 2 - March 2016
OWL WHISPERER
GET THE BROOM
BEES!
Production
Edit
Pre-Production
Edit
The host reviews videos he discovers either personally or through a user and usually keeps up-to-date by immediately broadcasting exceptionally viral videos in the following episode. However, more than once has he reviewed older, lesser-known videos he wishes to share.
During "pre-production" the host selects the videos and writes a script revolving around the three which may or may not be relevant to each other.
Ray has been aided officially in the writing of the episodes since his moving to Los Angeles by Phil Haney, Steve Greene, Martin Silbermintz, Erin Schmalfeld and Ilana Cohn.
Production
Edit
Shooting of Equals Three episodes has nearly always taken place at Ray's home by himself. It is shot generally inside, like in his first living room, in his New York City bedroom and in his Los Angeles apartment though on rare occasions they have been shot outside. Filming has transitioned in his later episodes to a Los Angeles studio.
At first simple, vlog-like productions, Equals Three episodes have been improved with time as Ray introduced the Watchmen wallpaper for example and then used superior lighting as well as upgraded video and audio recording hardware. Current episodes are available in 720p.
Post-Production
Edit
Post-production (mainly editing) of Equals Three episodes is what has evolved the most since the start of the show. At first edited by himself, Ray gave up editing to Brandon Perna since his moving to Los Angeles. But because of Brandon being apart of Maker Studios, Justin Johns now edits his videos.
Originally the show was fast-paced with Ray speaking quickly while developing his thoughts and including only some puns for comedic value. The hectic pace gradually slowed down in regards to the international audience Ray gathered and nowadays the host emphasizes more on simply mocking or reacting to the content instead of speaking his mind.
Since the very beginning, Ray interacted indirectly with videos and reused the content in the context of the show in order to repeat a joke or underline a point. This manipulation of reviewed videos is more present in the latest episodes although now used near-exclusively for comedic effect.
From a cinematographic point of view, Equals Three has only very slightly changed since its debut in 2008. The camera is always fixed while Ray is sitting (in earlier episodes) or standing (in later episodes and currently) in front and facing the camera. He utilizes the jump cut method and leans left or right for each shot.
I Miss Equals Three so Much :')